Rescue









WMI Global, LLC has a long history of providing and managing Rescue Operations for many High Profile Professional Events including events that require: Water Rescue, Technical Rescue, Mountain Rescue, and Land Rescue. WMI Global backs these specialties with our comprehensive professional medical operations providing events with a "true – turn-key" approach. WMI Global has a long standing professional reputation for thoroughness, detail oriented, and quality customer service that is well earned.
WMI Global Rescue Operations continually develop, utilize and implement highly effective Rescue techniques, skills and procedures to provide Drivers / Athletes globally with the best care possible, offering a safe as possible environment for Drivers / Athletes to compete at their optimum potential. Our philosophy is to always look for more ways to improve in all areas and aim to be more efficient and improve upon techniques and skills. We strive to improve the rescue and medical handling of our Drivers / Athletes globally and to give them the best opportunity for a positive outcome so that they can enjoy the sport that they do and know a trained professional is there to take care of them.
Water Rescue Training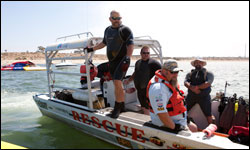 WMI Global Rescue has a comprehensive water rescue training program for divers and rescue personnel who train to be part of an elite water rescue team that services some of the largest boat races on the planet. Our water rescue team is backed by our comprehensive medical team creating a dynamic that is unparalleled and clearly one of the best rescue / medical teams in existence
With the long history of WMI Global providing comprehensive medical and rescue coverage to the top events and sports in the world on a truly international stage, these training programs are exciting and educational bringing together the best minds in the industry to share their knowledge and experience with the rescue community.